Triple J Auto Group, a division of Triple J Enterprises, Inc., announced renewal of its corporate sponsorship agreement with the Guam National Youth Football Federation (GNYFF). The sponsorship agreement, which will run through 
December 31, 2018
, names Triple J Auto Group, exclusive vehicle partner with official naming rights to the Youth Football League for the 8th straight year.  As part of their partnership Triple J also donated a Ford Ranger pick-up truck and trailer to support the organization's logistical needs for the 2018 Season which kicks off 
August 11th
.
Triple J is committed to making a real difference in contributing to the development of the next generation of football on Guam.  "We have been proud sponsors of GNYFF for many years," said Jeff Jones, President of Triple J Enterprises, Inc. "GNYFF and its members have a strong desire and special attention and respect for youth football and to do its best to help build up our kids, parents, coaches and the community at large. This donation is to help ease their logistical burdens so they can focus, more importantly, on the well being of the organization as a whole."
Ivan Shiroma, President of GNYFF added, "It is critical for us to have the support of the community and sponsors like Triple J Auto Group help us to continue to provide a safe and positive environment for youth to learn essential life skills like dedication, teamwork and sportsmanship, and to become better individuals both on and off the field. We have over 350 players and cheerleaders in our now 8-team league, so it is crucial to have the support of the community at large."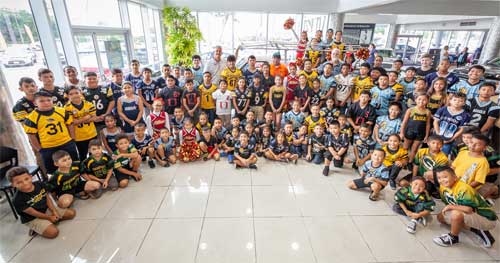 Present for the check presentation were players and cheerleaders representing each of the eight GNYFF organizations as well as (from left) Jay Jones, Senior VP of Triple J, Ivan Shiroma, GNYFF President and Jeff Jones, President and COO of Triple J.