(Monday, April 4, 2022) Chalan Kanoa, Saipan – Triple J is proud to announce the recent hiring of Richard "Conno" Pierce as the Executive Chef of the Triple J Restaurant Group in the CNMI. Chef Conno will assume leadership duties of Triple J's restaurant, hotel and commercial kitchen operations and help lead the restaurant group in a new direction.
With more than 15 years in the industry, in almost every position possible within a back of house setting, to include mass meal preparation/catering services, Conno is eager to put his culinary development background into play here back home in the CNMI.
Coming back home was always in the cards for Conno, who left Saipan when he was 15 to follow in his mother, Marian Aldan-Pierce's, footsteps. From Hawaii, to Washington, to Minnesota, he's always had this idea of coming back home to be with family, bringing his knowledge and passion back to the island. His hope is to instill today's industry standards in co-workers and employees with the hope that they will obtain his same enthusiasm, work ethic and love for the profession of being a true culinarian as he has.
With quite an impressive portfolio, having worked alongside Michelin star chefs from The French Laundry in Napa Valley CA, SingleThread in Healdsburg CA, and Alinea in Chicago IL, Conno has worked closely with celebrity chef Justin Sutherland during his time with Madison Restaurant Group as Executive Chef/Culinary Director, and most recently as Sous Chef for the Hitchcock Restaurant Group, working directly under two-time James Beard winning Chef, Brendon McGill, Conno is most excited to bring that Michelin-star cooking style to Saipan. In his words, "many people aren't familiar with the Michelin-star system, my hope is to change the mind-set that it is pompous and picky, and more about the quality of the ingredients, the harmony of flavours, the mastery of techniques and the personality of the team and the chef as expressed in the cuisine, and consistency both over time and across the entire menu," Conno stated.
Conno also emphasized the importance of farm to table, using local produce and availability right here at home. While he was quite impressed with Triple J's strategically designed commercial kitchen and efficiencies, he also looks forward to introducing new equipment, cooking techniques and flavors Saipan hasn't seen before, "I am not trying to re-invent the wheel, just make it better – play up dishes differently, refocus and revamp because there is always opportunity for new things".
Conno is an all-around team player, and his portfolio says as much, from kitchen supervisor, sous chef, executive sous chef to lead trainer. His desire is to be everywhere within the group, teaching everyone along the way, getting into the trenches and passing on better practices and efficiencies as he goes and grows.
Pierce's return to Saipan was one of excitement, so much so that he was receiving calls while in quarantine with friends wondering if he'd open up his own restaurant, so when asked why he joined the Triple J Group, Conno stated frankly, "my mother has always been close with Bob Jones and the family, growing up I had my immediate and extended family, but I also had my DFS and Triple J family, I've lived life with them, both personally and professionally, and while I've never worked in a corporate setting, it was appealing to me – seeing Bob and the Jones family build the company from the ground up, it only made sense for me to work for them." He also went on to say what an exciting time it was to join the group, "COVID was horrible for the restaurant industry, people leaving the industry and switching fields, and now since everyone is picking themselves up out of that, the opportunity for growth and possibilities within Triple J are endless and I want to be involved with a group that has a solid foundation and image."
The feeling is mutual, Triple J's Chairman and CEO, Robert "Bob" Jones stated, "While Chef Conno exhibits the rare traits of being formally trained in culinary arts and the ability to lead, develop and grow businesses, what makes him the best chef for our group has more to do with his passion for leading people and creating a culture within the industry here in the CNMI."
Jeff Jones, President and COO added, "Our business philosophy has always been 'Customers First' focused, and we look forward to Chef Conno leading our kitchens by example and investing in the people in a way that will inspire us all."
The community is invited to get a glimpse of Chef Conno in action as he leads cooking demos in-store at Payless SuperFresh this Saturday, April 9th and next Saturday, April 16th. Sample his unique farm to table style, using local produce, free of charge while supplies last. Stay tuned for future demos hosted by Chef Conno every month at various locations on island.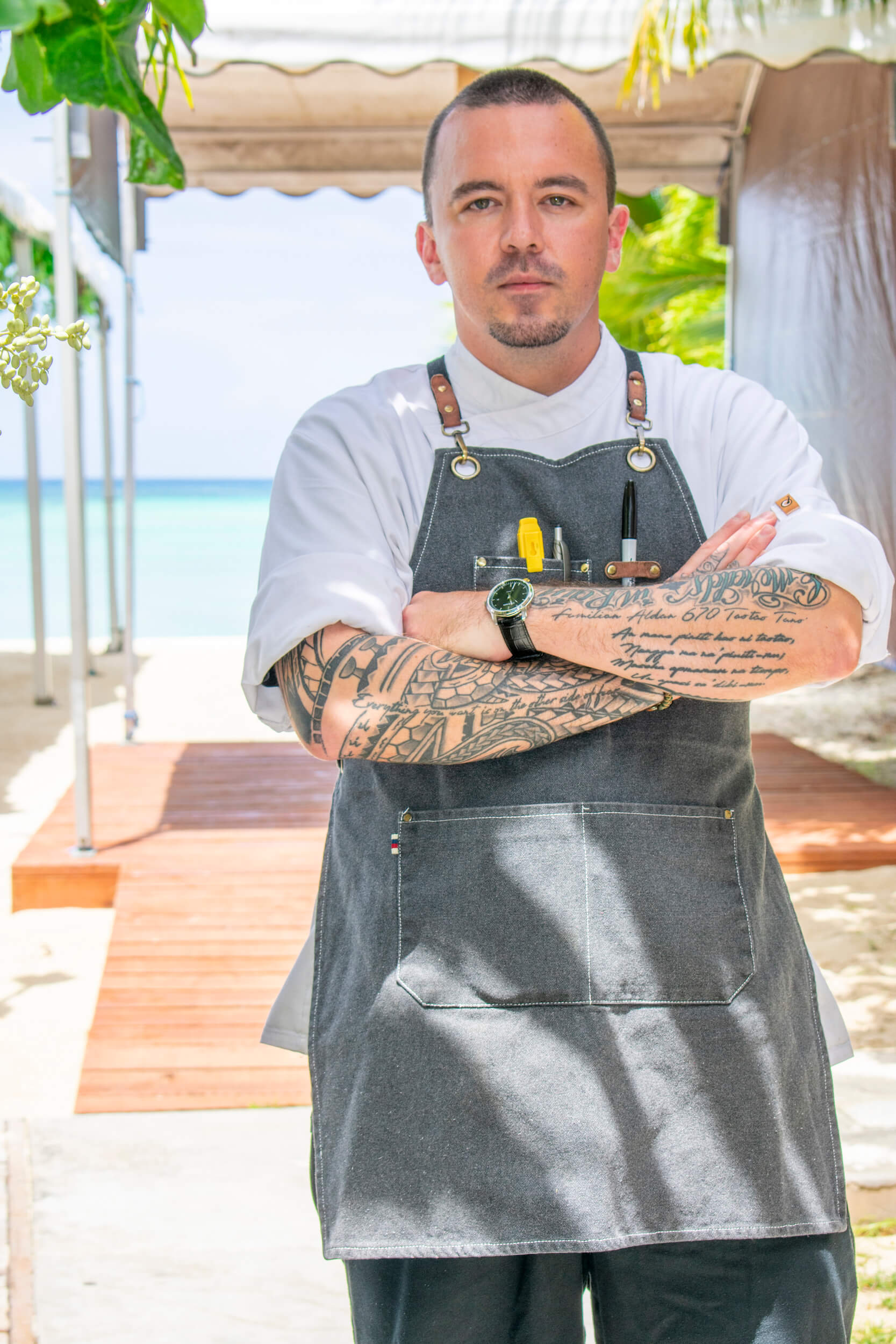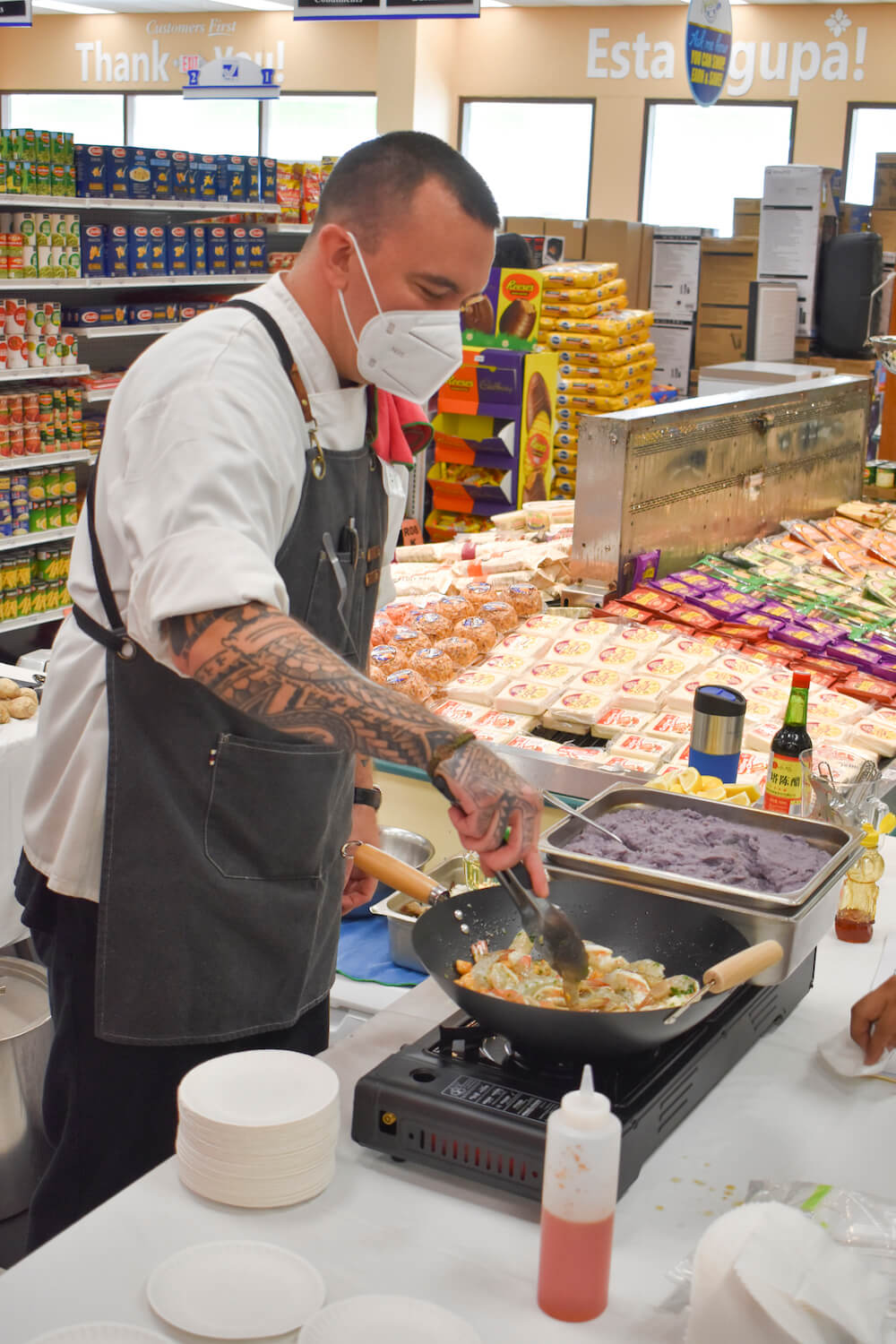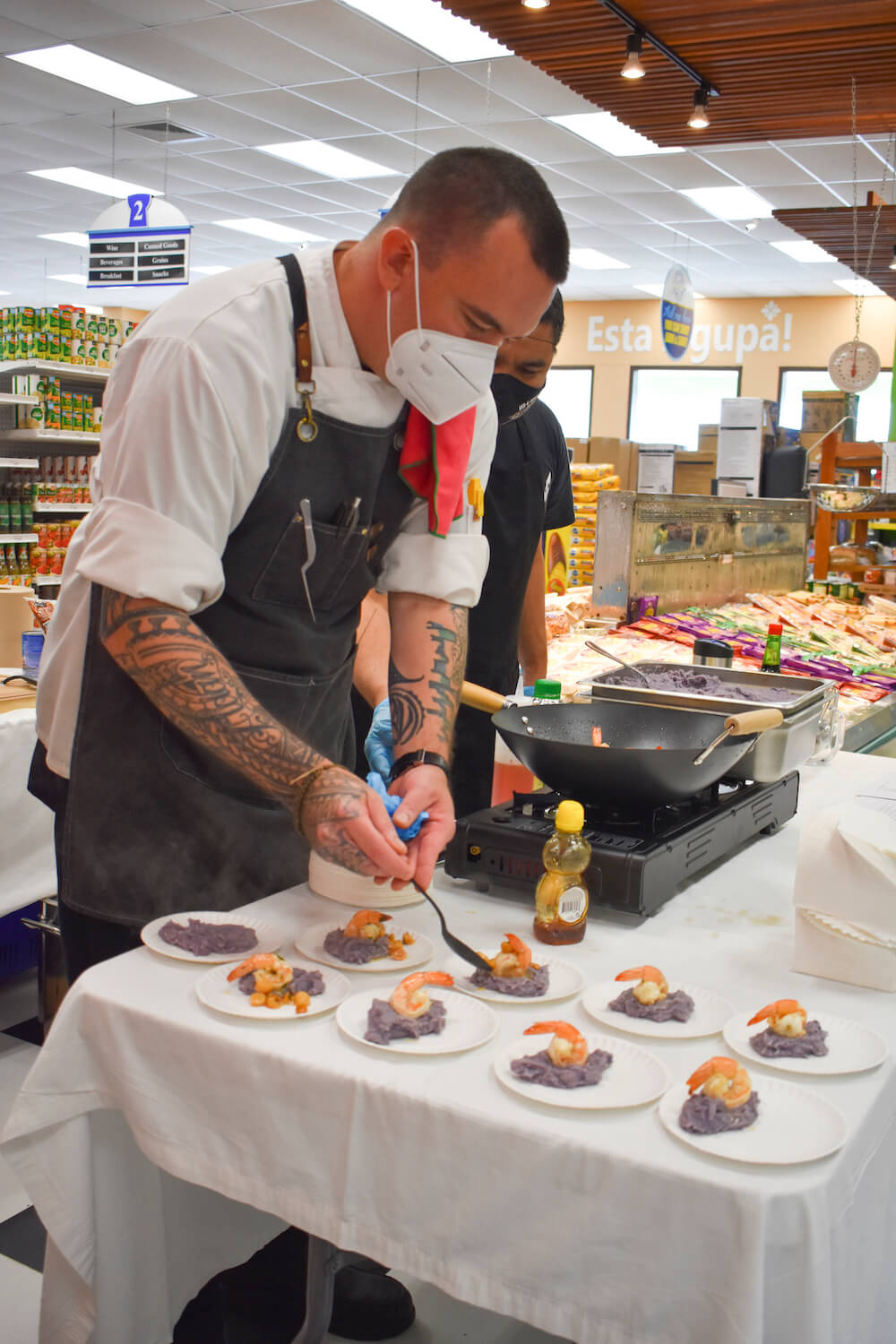 Headshot:
Photo of Executive Chef Richard "Conno" Pierce taken at the Surf Club Restaurant Saipan on Monday, April 4th.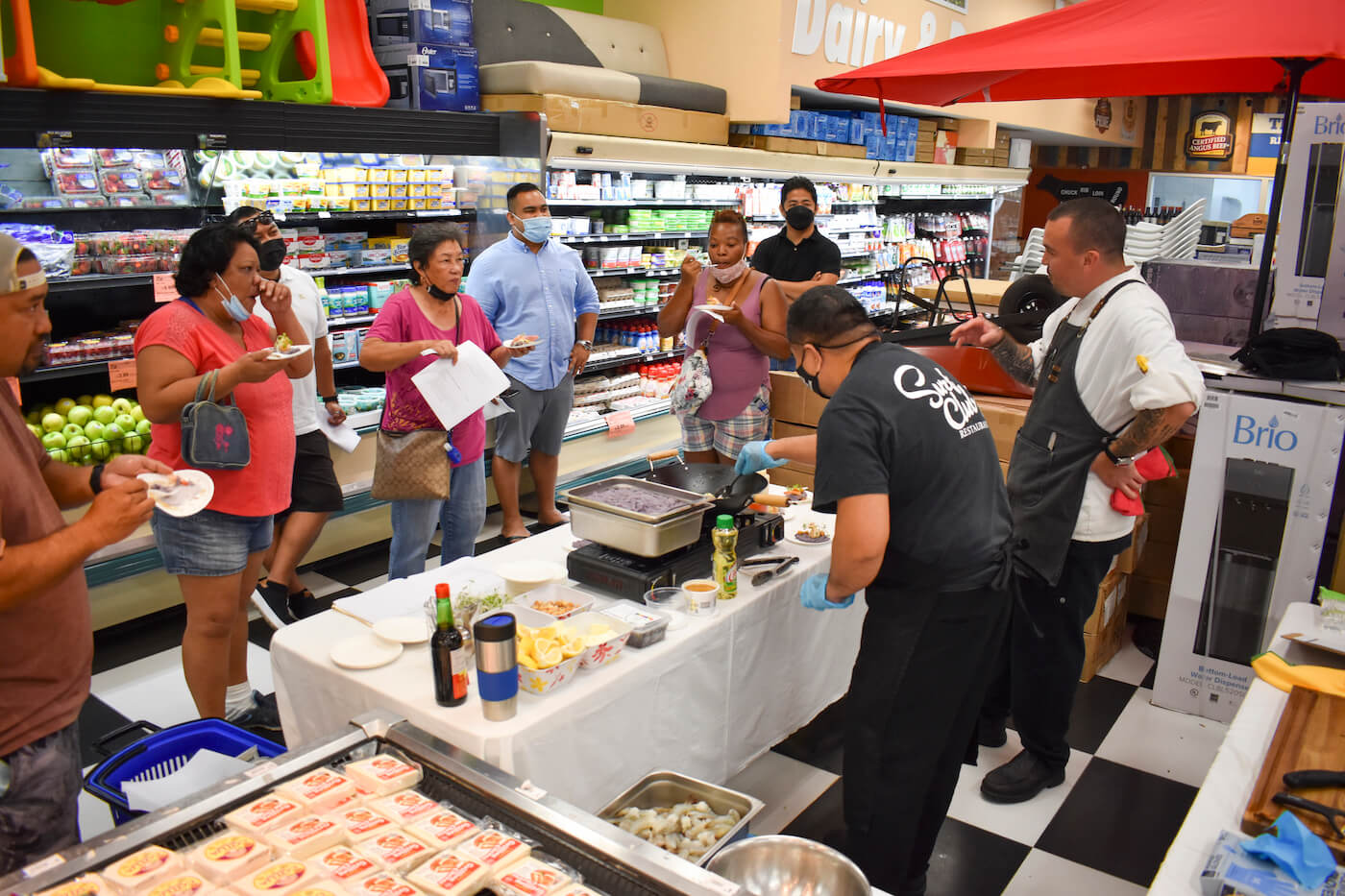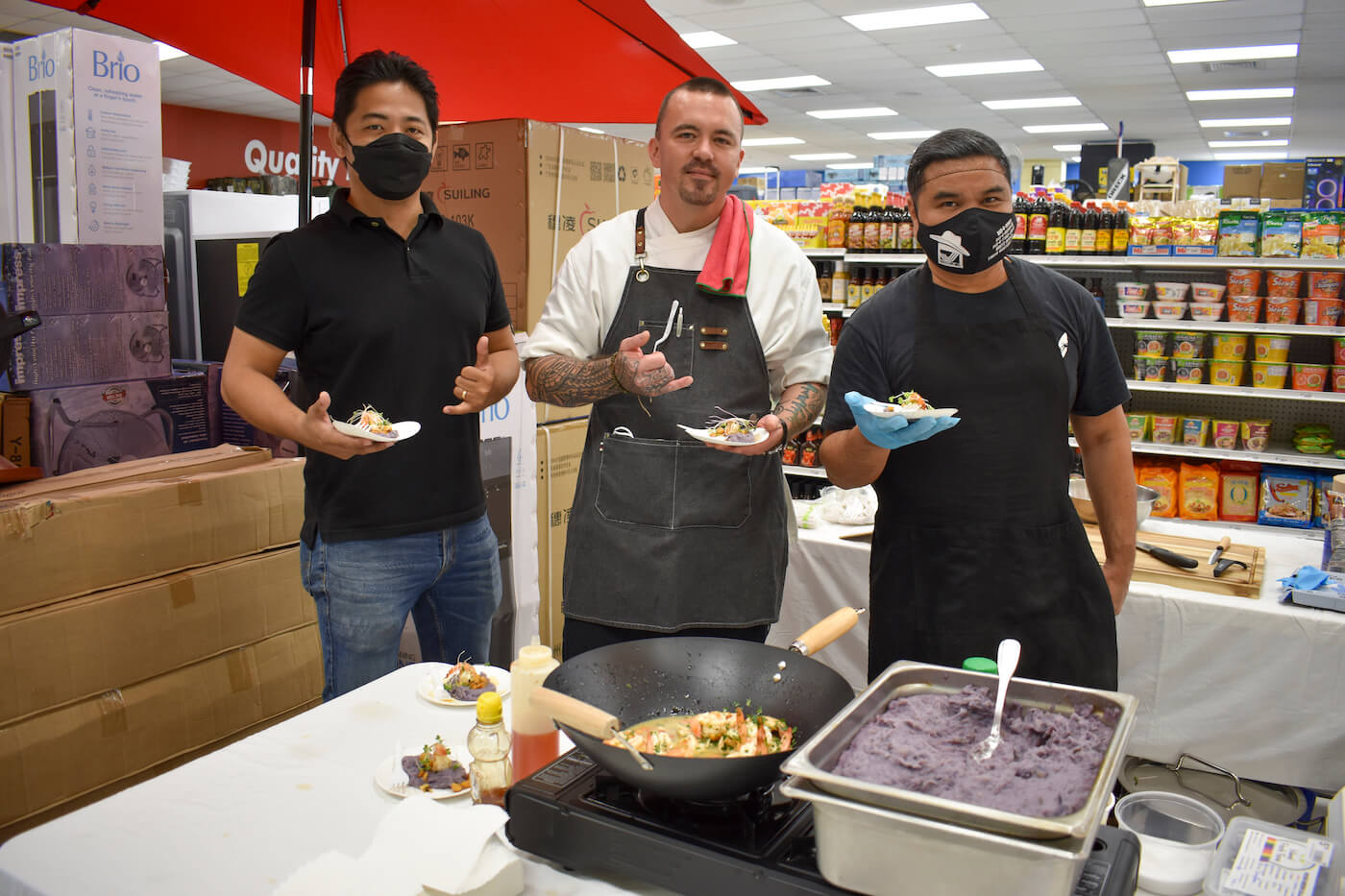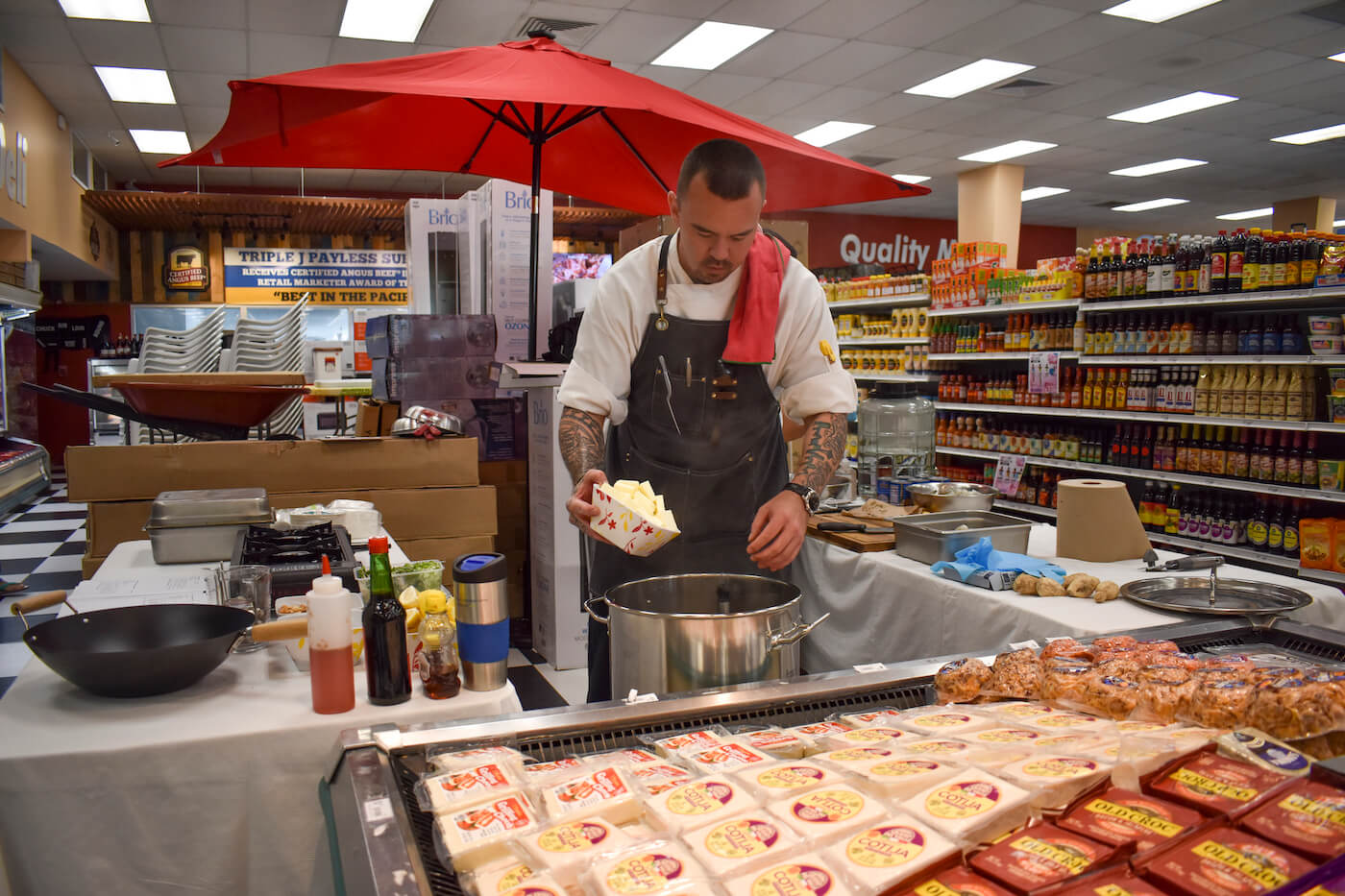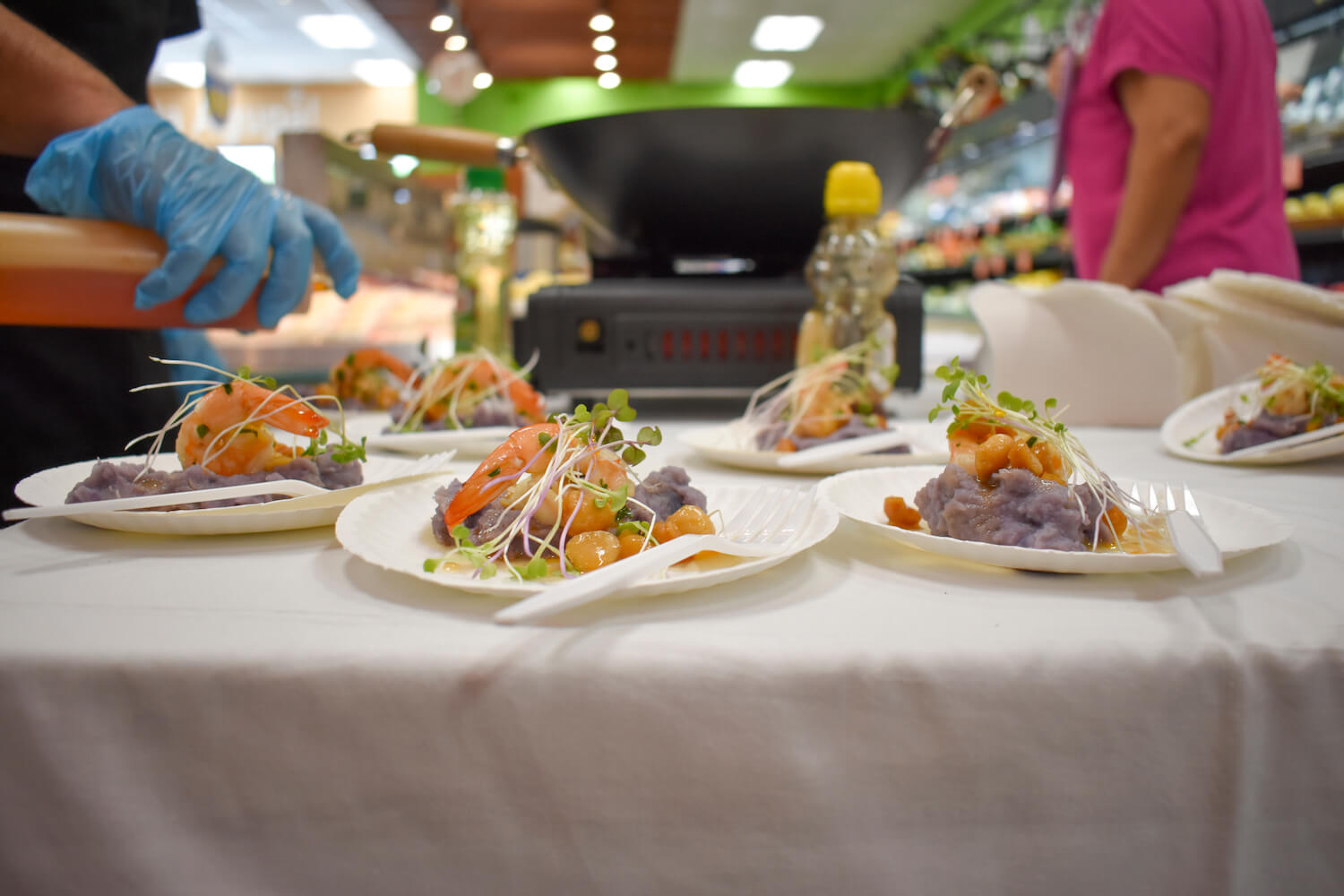 Cooking Demo:
Chef Conno and team present an in-store cooking demo held at Payless SuperFresh on Saturday, April 2nd, showcasing locally farmed produce - Okinawan Sweet Potato Purée, Brown Butter and Honey Glazed Shrimp with Roasted Macadamia Nuts, 5 Spice and Rose Petal Chili Oil.