TAMUNING, GUAM, March 18, 2022– On Friday, March 18th , Triple J Ford, on behalf of Ford Motor Company Fund, presented checks totaling $15,000 to local non-profit organizations - USO Guam, American Red Cross and the Micronesian Conservation Coalition. Each organization received $5,000 each to support local program initiatives.
As part of the automaker's annual Global Caring Month, Ford Motor Company Fund awarded $700,000 in grants to 149 employee-nominated nonprofits and nongovernmental organizations around the world, including Guam.
The Micronesian Conservation Coalition (MCC) is a 501(c)3 nonprofit, founded in 2015, with a goal to conserve island habitats and species throughout Micronesia by reinforcing community connections to the true value of these ecosystems, while respecting and preserving unique cultures and their natural resources and a mission, "to respect and sustain the island resources and cultures of Micronesia." Their desire is to cultivate a community that is aware and engaged in conservation efforts in Micronesia. This grant will support Satellite Tagging of the Guam Reef Manta Rays, through the purchase of satellite tags, MCC monitors the movements of Guam reef manta rays. Over a six-month period, MCC observes how mantas behave. This information provides educational and scientific data to help understand and protect mantas and their habitats.
The USO is a congressionally chartered 501(c)(3) organization established by President Franklin Delano Roosevelt 82 years ago with the mission of connecting service members with family, home, and country, throughout their service to our nation. In Guam they operate three centers that
welcome more than 170,000 service visits annually– one located in the heart of our hotel district in Tumon Bay where more than 2,000 service members lodge daily, one located on Andersen Air Force Base and one on Naval Base Guam. As part of the USO Guam strategic plan for 2022, this grant will be used for a wide variety of center and outreach programming targeting specific military groups.
The Red Cross is congressionally mandated to provide disaster relief assistance and has done so in Guam since 1916. They are the only non-profit organization that responds to disasters 24/7, 365 days a year. This grant will support their FY22 Disaster Preparedness & Response in Guam program, which recruits, trains, and coordinates volunteers to provide disaster relief assistance to victims and educate individuals and communities with the knowledge and skills to better prepare themselves prior to disasters.
"Stewardship is a key value for both Triple J and Ford and being able to give back through initiatives like Global Caring Month are yet another way we can serve people and build better communities," said Jay Jones, senior vice president of Triple J.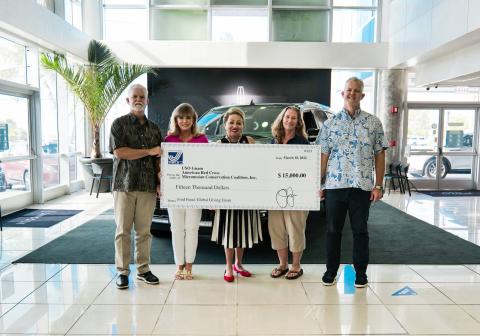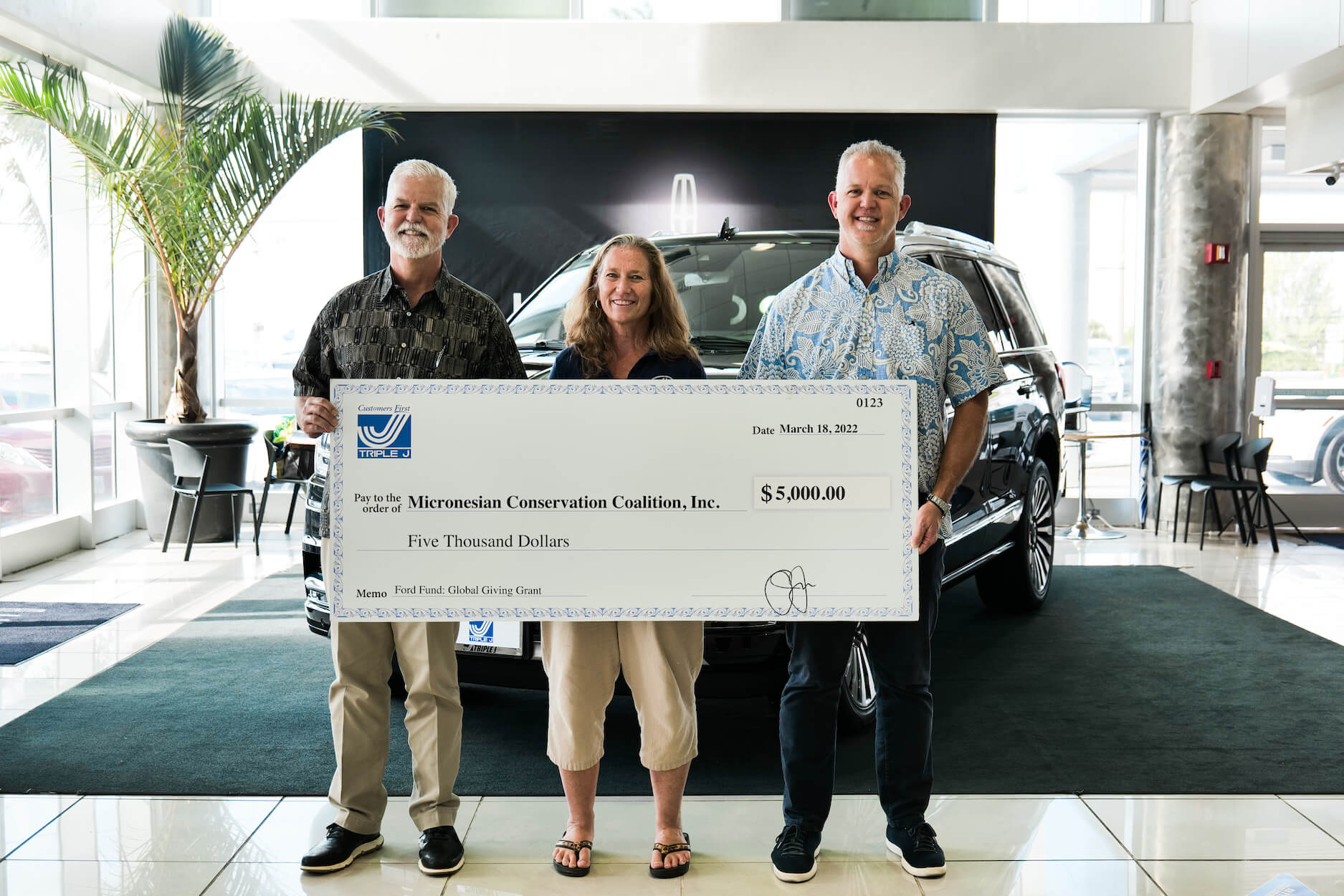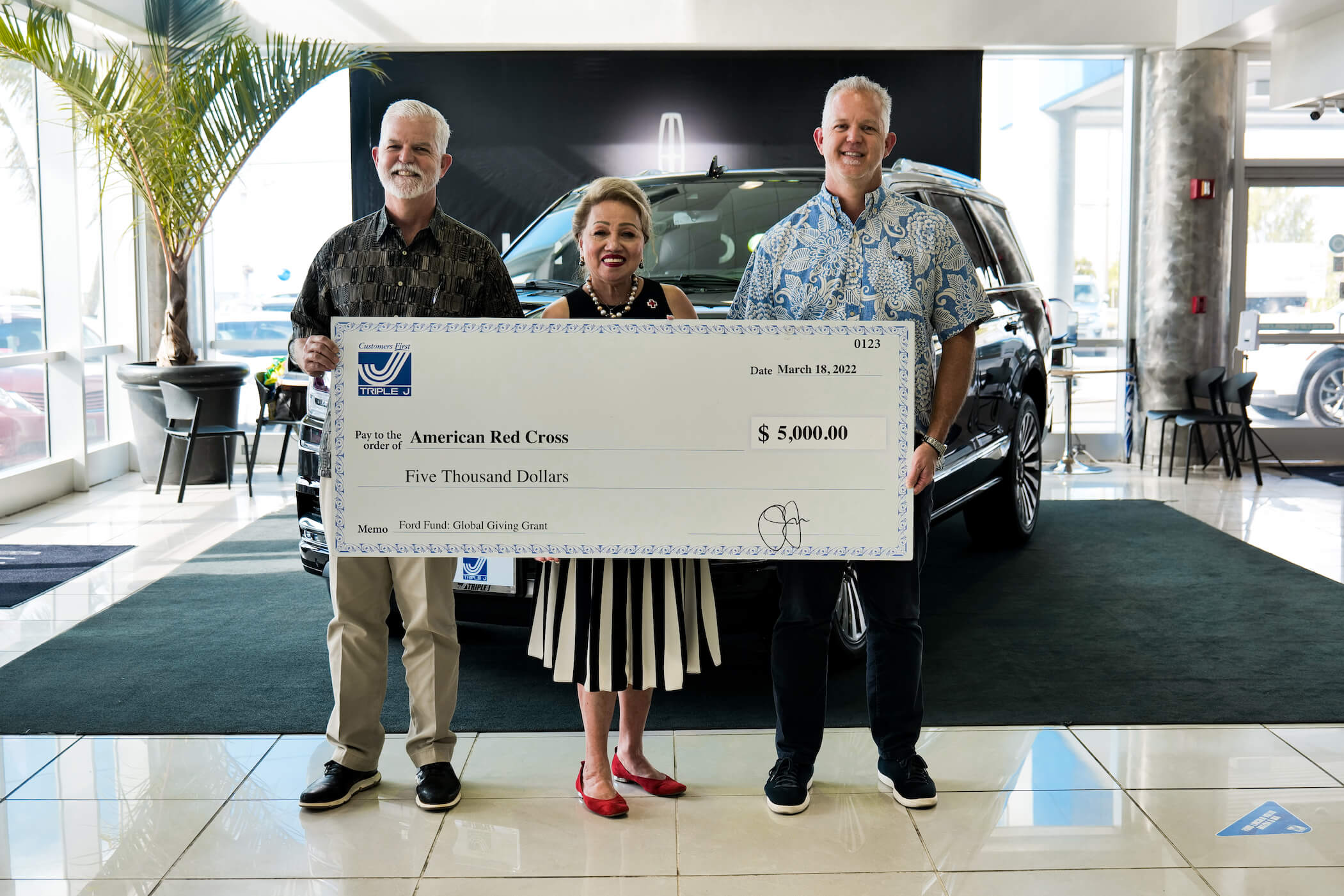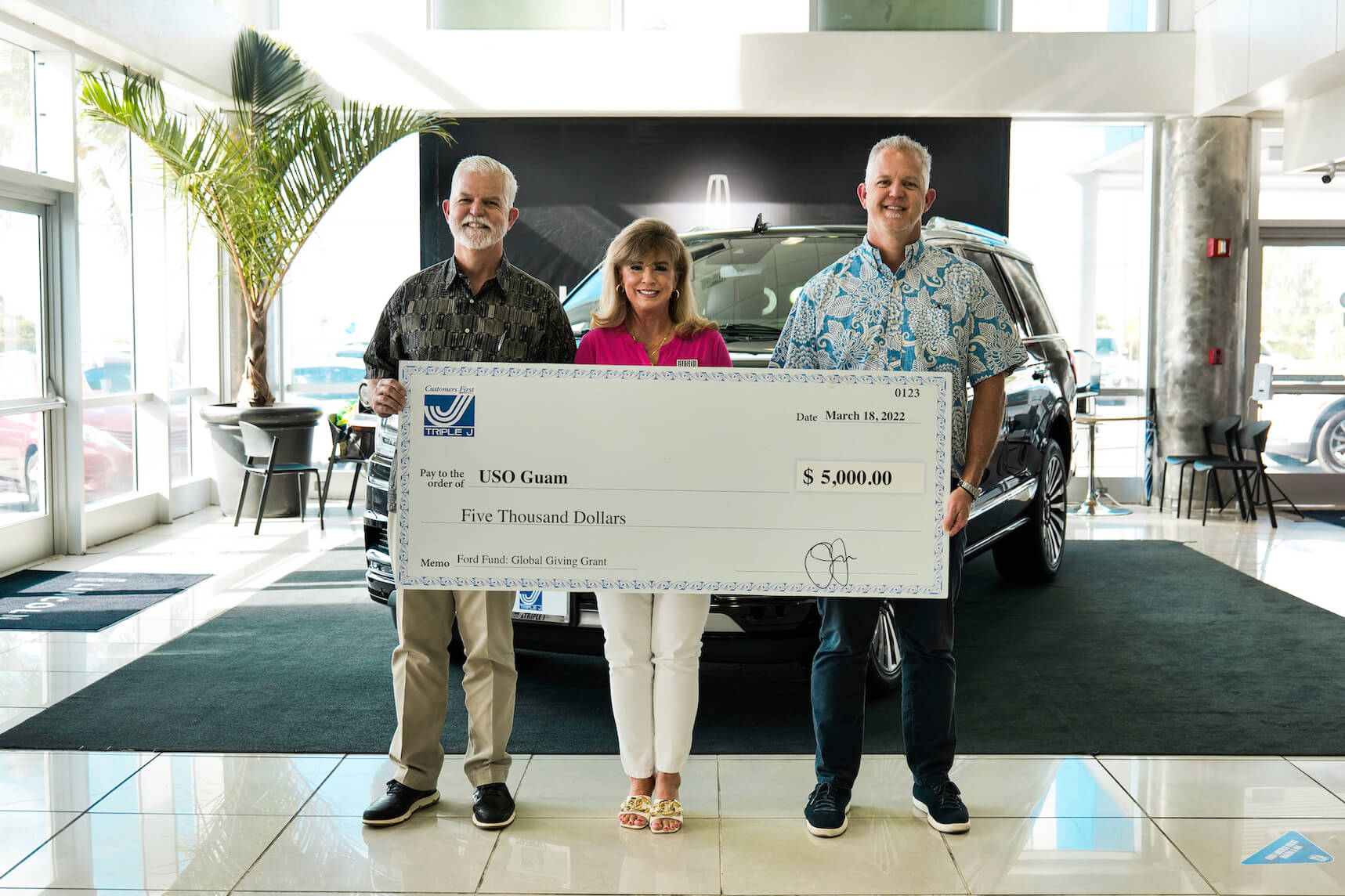 PHOTO CAPTION: Standing left to right: Jeff Jones, President & COO, Triple J; Leigh Graham, Guam Area Director, USO; Chita Blaise, CEO, American Red Cross Guam Chapter; Belinda Baird, Administrative Assistant, Micronesian Conservation Coalition and Jay Jones, Senior VP, Triple J.